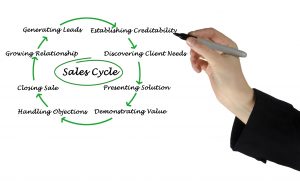 Aligning Sales and Marketing to Maximize Selling Performance
By Greg Nutter
Most B2B sales are complex, particularly those involving high-tech products and services – and unfortunately, a great deal of the marketing programs and tools that are touted as heavy duty and high-power, are actually of marginal value in helping a field-selling organization advance a sale. The impact of this reality is lost sales, unproductive sales teams, and a whole lot of wasted money.
To provide perspective, KnowledgeTree contends that today, upwards of 70 percent of marketing materials created to support sales are never used by salespeople. What's more, salespeople are wasting their time preparing customer-facing deliverables, while failing to leverage the marketing materials created for them – and that's shaving off customer-facing time considerably, says the Huffington Post.
Let's explore this disconnect, and suggest ways you can fix it.
Defining a "Complex Sale"
We'll begin by defining what we mean by the term "Complex Sale." There are two ways in which a sale can become complex. The first occurs when there is not an obvious connection between a product feature and the value a customer receives from it. We refer to this as "tactical complexity." The second situation is when there are multiple people involved in the purchasing process, and each one has a different view of the decision criteria (IT, purchasing, legal, users, executives, etc.). We call this "strategic complexity."
Today, B2B sales are almost always strategically complex, because that's how companies minimize the risk of making poor decisions. Tactical complexity happens when products aren't commodities. Therefore, the more "value-added" features a product has, the more complex it is to link them to benefits that customers really care about.
Examining the Tactical Disconnect
When companies buy solutions, they often go through the following process:
Event occurs
Problem is identified
Problem's severity is assessed
A Fix/no-fix decision is made
Options are evaluated
Decision criteria is developed
The best option is selected
A contract is signed
The solution is installed and validated
The bill is paid
Sales reps who are adept at handling tactically-complex situations know that the earlier you're involved, the better your chances of winning. The best time to start, then, is just after an "event" occurs (Step 2 or 3), so you can help the customer identify the problem and assess its severity. The worst time to get engaged is in Step 7.  That's where you and your competitors are brought in to explain your products and why you're the best option. Chances are, if you've not been involved earlier to help frame the problem, you won't make the cut ­— unless you have a relative in the corner office.
Now, it's time to look at how your marketing programs, collaterals and tools are focused. Most tend to be very product or competition-oriented, such as spec sheets, the company overview, market positioning, and customer references. While they're perfect for helping a customer decide if you meet their decision criteria (Step 7), most are very poor at helping sales reps be effective in the earlier stages, when you actually have much greater likelihood of success.
The Strategic Disconnect
Reps who are good in strategically-complex situations know that to maximize their chances of winning, they must sell to everyone who can influence the decision, particularly users and those responsible for allocating funds. Often, individuals in purchasing or IT will say that they are the only ones involved in the decision, and that you just need to work with them. If your product is a commodity, and the company has lots of experience buying it, this might be the case – if not, nothing could be further from the truth. Selling exclusively to the company gatekeepers is a very risky proposition.
Once again, look at how your marketing programs, collateral, and tools are focused: most tend to be either very general or are technology, "spec," or corporate-oriented. Sure, they're great for purchasing or IT evaluators, but aren't any value to users (unless IT is the only user), or the senior management making the final funding decision.
Another example of wasted marketing effort is the "happy customer" testimonial or case study, in which everyone says nice things about the other, but there's nothing of real business value provided to either the user or the financial executive. As a result, savvy reps that get an audience with users or financial executives must create their own tools to support their selling efforts. As we discussed earlier, creating such tools takes away from valuable selling time and results in customer leave-behinds which often don't align to corporate standards.
Why Is There a Disconnect?
Marketing professionals don't set out to create tools that are of limited value to sales. However, many have never had the opportunity to learn why complex selling is so different. Few have sold in a complex sales environment, and almost all formal marketing training that they may have completed is consumer-oriented. Finally, when developing marketing programs and tools, people often tend to rely on their own life experiences, which are highly consumer-oriented. Consumer and corporate marketing are vastly different, which explains why most tools end up on the shelf or in the circular filing cabinet.
Here's Your Action Plan:
Understand your customer's buying process for your offerings.
Evaluate your field selling skills (direct and indirect). Where are these reps normally engaged? At which steps do they have problems?
Develop more programs, collaterals, and tools to help your sales team engage customers earlier in the selling process.
Prioritize programs and tools that are "actionable" and can be integrated into the selling process.
Develop more tools and programs that users and financially-oriented executives will find of value. Focus on improving business processes, ROI, and other business oriented benefits. Use more facts and less fluff.
Avoid one-message-fits-all marketing. Target programs and tools to specific audiences and selling situations so that readers don't have to hunt for the part that's relevant to them.
Engage your selling organization. Ask them where they need help in the sales cycle and develop tools to make them more effective.
Access complex selling expertise. If you don't have anyone in marketing that has lots of complex selling experience, hire or contract with someone who can fill the gap.
Aligning marketing and sales can have significant payoff. According to a recent survey of nearly 1,000 U.S.-based sales and marketing professionals by DemandGen Report, while the gap between sales and marketing still remains a significant challenge for many companies, those who put aligned processes in place were able to scale their efforts quicker and make a bigger impact on revenue than the companies that failed to do so. Looking for a new way to meet your numbers? Engage in marketing and sales alignment for success.
******
Greg Nutter is a Principal with Soloquent Inc. (www.soloquent.com) where he works with small and mid-sized organizations to develop and implement strategies that enhance the performance of their direct, indirect and multi-channel sales organizations. He has over 25 years of sales, marketing, channel, management and consulting experience, primarily in the manufacturing, distribution, services, and technology industries.  Got a comment, got a question, got a problem? Send Greg a note at gnutter@soloquent.com
Marketing Materials that are NEVER USED by Sales Reps
Amount of Time Sales Reps Actually Spend Selling